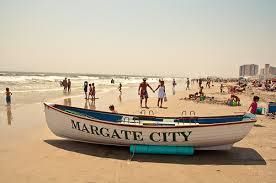 BY GARY SIMMENS Realtor at Keller Williams Atlantic Shore
Named after Margate England, our local town Margate, NJ 08402 is located on Absecon Island. Stretching for 8.1 miles the island also home of Atlantic City and Ventnor City to the northeast, and Longport on the southwest. The city stretches about eight blocks from the Atlantic Ocean to the bay at most points in town. Margate is a popular Jersey Shore destination, especially during the summer, and is the home of Lucy the Elephant, a 65-foot wooden elephant, and of Marven Gardens, of Monopoly board game fame.
Along with other spots on the Jersey Shore, Margate becomes a popular destination in the summer months. Many houses in Margate are second homes used during the summer, and a considerable increasing number are owned by year-round residents. If you drive around Margate you cannot help but notice all the new construction of homes going on and existing homes being raised up in elevation height to increase value, add possible outside bonus storage areas, at times if permitted, for increased parking too, and most helps eliminate higher flood insurance costs. The Sandy storm from years ago has not slowed down the investment in the shore towns, with abundant quality new construction going on in Margate with the good economy.
The real estate market has been fabulous in Margate over the last few years and so far this spring season of 2019 the days on the market until under contract of sale have decreased over 20% on average for faster moving sales over a busy 2018 year. Most expensive home to recently sell was a spectacular direct ocean front 6 bedroom 7 bath on South Rumson (in the Parkway section which is known for its large homes and nice landscaping and elegant streets) for $5,775,000.00 The median sales price for single family homes have shown an increase year to date, and as last year the prices have risen as well. The condo market segment did not show the same strong positive numbers as the single-family homes have by having a 11.8% drop in price.
Do not forget the upcoming Farmers Market for fresh farm organic produce on every Thursday starting June 13th through August 29th 8:30am-12pm located near the bay area. Also Margate hosts the largest beach party at the Jersey Shore every summer called Beachstock scheduled this year for its 9th year of fun for Saturday June 29,th.
Learn more at www.GarySimmens.com or join Facebook group: South Jersey Shore Living-Community and Real Estate Updates.