Moving from one home to another home is beyond exciting! Unless you enjoy the process of hauling your belongings yourself or want to bribe friends with pizza and beer, you're going to need to hire a mover.
How can you save some cash on your next move? What are some ways to prepare for the process? Take a look at our best tips for a smooth and low cost move!
Do Your Research- There are countless moving companies in our area. They all vary in style, price, and satisfaction. Hit up your local social media groups to ask for local advice from others who have recently moved. Learn more about the fees associated with movers, how to estimate your home's total costs, and what you can expect. This makes it possible to save ahead of time and to know you're getting the best deal.
Find Free Boxes- Save money and the planet by finding used boxes from various places. Liquor stores and grocery stores are usually treasure troves of free boxes. Lots of neighborhood pages will also post curb alerts for free boxes. Get creative and save money on this disposable aspect of your moving process.
Don't Move Items You Hate- Even if your move is imminent it's possible to spend some time sorting through items you don't truly love. If you have planned on replacing your old sofa in the new house, save some of the moving cost by selling or donating it now. Movers charge by weight and time spent, traditionally, being able to reduce the size of your move is a great way to save big on moving day.
Make Moving Day Quick- Since movers charge by the hour, it's important to ensure everything is packed and ready to go on moving day. Movers say it's common for homeowners to put off a few packing jobs for the last minute, this slows down the crew and makes the process cost more. Make things even easier by moving the majority of your items to a central location before the truck arrives.
Don't Choose Peak Times- If it's possible, plan your move for a weekday instead of the busy weekend days. Peak times, such as a Saturday, usually equal a more expensive moving rate. If you're able to, consider taking a vacation day and changing the date of your move.
Understand the Fees- Every moving company has different fees. Some companies charge a separate fee for moving items up and down stairs. Consider any extras that could run up a high bill. Don't be afraid to get creative and ask for ways around these fees. Could it save you money to move things downstairs ahead of moving day? You'll never know unless you ask.
Just ASK for a Deal- Don't be afraid to ask for different solutions. It never hurts to ask directly for unique ways to make your final costs lower through special discounts or programs from the moving company. Don't be intimidated and assume you need to pay sticker price.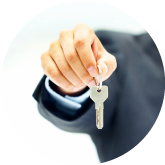 It's possible to make your next move without breaking the bank. Preparation, research, and simply asking for a better deal are all ways to save big.
What are some creative ways you have saved money on your moving expenses? What tips do you have for buyers and sellers embarking on a big move?